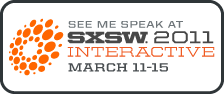 South by Southwest Interactie begins today! Our very own Jesse Streb will be representing Brightcove in his session on Monday, March 14. Be sure to add it to your schedule!
Monday, March 14 11:45 AM
Ballroom E
There are three fundamental approaches to delivering online video today: Adobe Flash, HTML5 and native mobile apps. This holds true across the three screens where video content is mostly consumed – the PC, mobile devices and Internet-connected TVs. Without a proper video solution and strategy in place, this multi-format, fragmented, highly complex world can create a lot of headaches for publishers who want to make sure their video is accessible to the widest audience possible. This session will explore how publishers of all sizes can create video-rich website experiences that are optimized for all viewing experiences, as well as key design elements that publishers should take into consideration for each screen.
Check out our list of 7 Awesome SXSW Sessions about Video to help fill out your schedule with online video-related events.