Our quarterly online video report produced along with partners at TubeMogul highlights some of the interesting trends that emerged in 2010 in the industry. Today, I wanted to take a closer look at the brand engagement numbers that speak to videos brand marketers present on their websites in Brightcove players.
Brands saw a massive 98% jump in engagement this quarter, reaching 2:03 minutes watched on average compared to 1:03 minutes watched the prior quarter. This suggests that brands are improving the quality of their content and connecting with receptive audiences.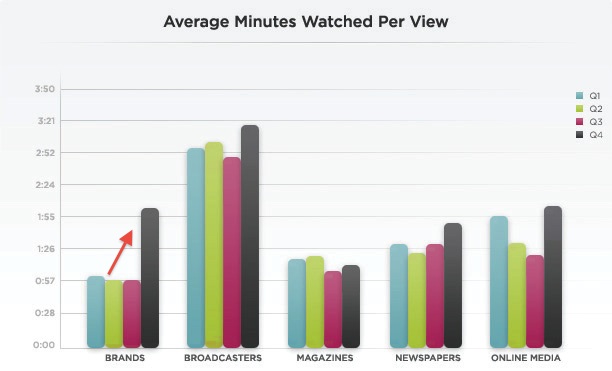 Audience engagement levels across all of the media verticals are trending upward, particularly in the last quarter, but brands really stood out with their significant jump. Though broadcasters remain far above the rest of the categories in average minutes watched per stream (that can explained by their tendency to produce longer-form content), brands are really beginning to see the effects of their efforts in producing engaging content. That's keeping potential customers engaged on their websites and to giving loyal customers reasons to keep coming back for more.
We highlighted today one example of brands using video effectively in this post about LinkedIn's vintage video series. Check out more examples of how brand marketers are using video to engage with their customer base. Read the full quarterly research report from Brightcove and TubeMogul on the media industry and online video for more insights.