We're excited to announce the next wave of confirmed speakers for Brightcove PLAY, our first ever global customer conference set to take place May 23 - 25 at the Seaport Hotel and World Trade Center in Boston. In the last few weeks we have added a range of exciting customer and partner speakers for the event, including Bank of America, VEVO, A&E Television Network, Gannett, Adjust Your Set, 5min Media, Rogers Digital Media, O2 Ireland, TripTelevision, FreeWheel and WIRED.com.
The full lineup of confirmed speakers for Brightcove PLAY to date includes: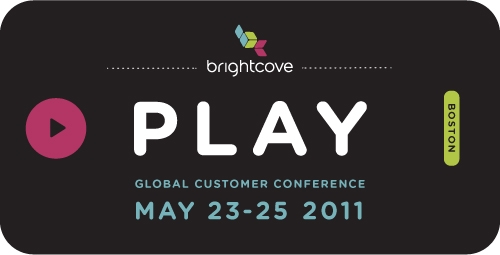 Josh Miller, Co-Founder at 3Play Media
Richard Bloom, Senior Vice President of Business Development at 5min Media
Nathan Potter, Vice President, Digital Technology at A&E Television Networks
Chris Gorell Barnes, CEO of Adjust Your Set
David Czarnecki, Lead Engineer at Agora Games
Akamai
Gregg Moss, Senior Vice President, Video and Broadcast at Bank of America
Glenn Barnett, Consultant at Cantina Consulting
Vicki Bird, Online Media Manager at The Church of Jesus Christ of Latter-day Saints
Matt Heiman, Founder of Diagonal View
Davyeon Ross, President and CEO at Digital Sports Ventures
Tom Wentworth, Vice President of Web Solutions at Ektron
Max Goodberg, Director, Technical Services at FreeWheel
Kate Walters, Director of Video at Gannett Digital
Perry Hewitt, Director, Digital Communications and Communications Services at Harvard University
Michael Dunn, CTO of Hearst Interactive Media
Michael Kolowich, CEO of KnowledgeVision
Luke Davies, President of LeanIn
Paul Sullivan, Senior Vice President of Product Development at Major League Gaming
Tanya Townsend, Music and Digital Media Specialist at O2 Ireland
David Boyll, Director, Digital Media Technology at Oracle
Quantcast
Christine Gullage, Platform Manager, Video at Rogers Digital Media
John Sasso, Senior Director, Online Sales Strategy and Operations at Sony Music Entertainment
Barbara DeHart, Vice President of Marketing at Telestream
Kulin Strimbu, President and CEO of TripTelevision
David Burch, Communications Director at TubeMogul
Jeff Jackson, Senior Technology Advisor for Digital Media, U.S. Department of State
Simon Kellman, Manager of Syndication Operations at VEVO
Alfred Ruth, Co-founder and Vice President of Products at Videoplaza
Michael Mertens, Associate Director, Product at WIRED.com
Shannon Perkins, Editor of Interactive News Technologies at WIRED.com
We are also unveiling the next wave of flagship sponsors for Brightcove PLAY, which include leading technology and solution partners, KnowledgeVision, Twin Technologies, Telestream and Fig Leaf Software. The full list of sponsors for the event is available on the Brightcove PLAY website, and we look forward to announcing additional sponsors in the coming weeks.
Brightcove PLAY 2011 will convene hundreds of media companies, marketers and developers from around the world for 3 action-packed days of hands-on learning, in-depth strategy sessions, next-generation product demos, all-star keynotes and networking. We will have six keynote presentations and more than 30 expert-lead breakout sessions for business decision makers and strategists, day-to-day users and non-technical programmers, advertising operations professionals and application developers.
If you haven't already, make sure you register today to take advantage of our early bird discount registration to save $500 on the full conference fee. The deadline for the early bird rate is Tuesday, March 1st, so please act fast!
We are also providing regular updates on speakers, session topics and sponsors via our Brightcove PLAY Twitter and Facebook pages, so please check back often and become a fan / follower if you haven't already!