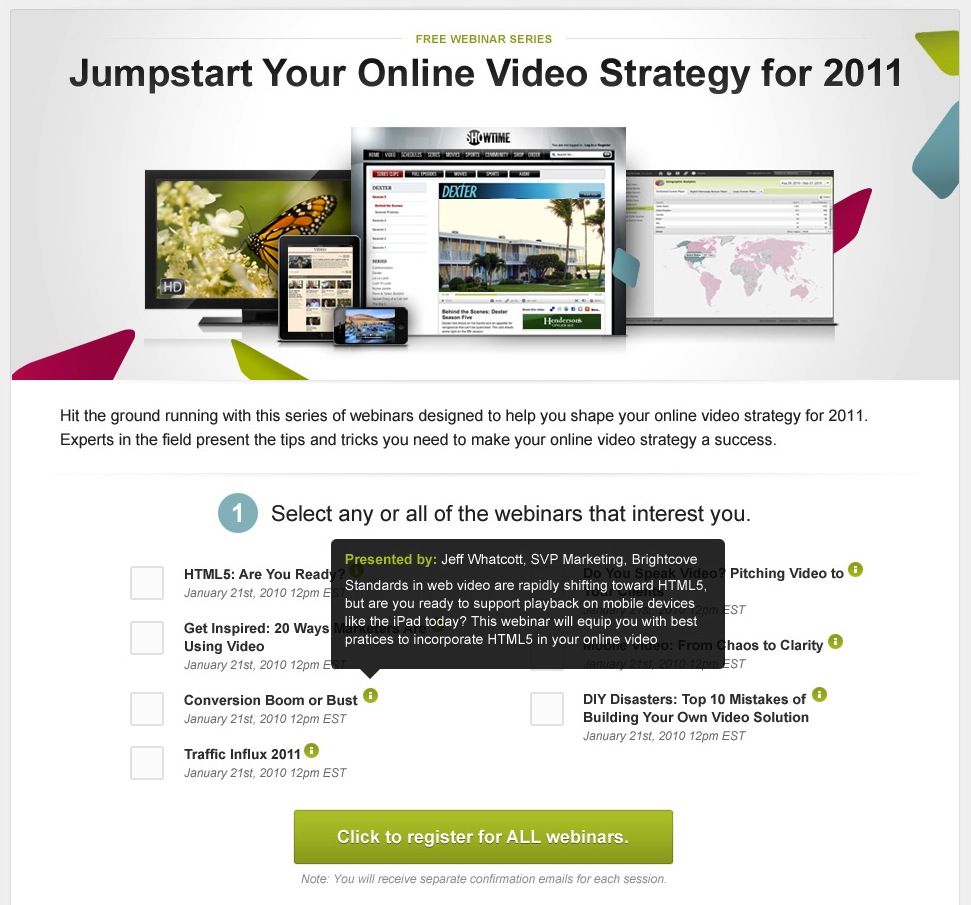 As we dive headlong into the new year, a lot of you out there are busy laying plans to set your organizations up for success for the rest of 2011. Now is the best time to think about how you can up the ante with your online video strategy in the coming year.
To help you plan and strategize, Brightcove has pulled together a series of webinars with expert presenters, ready to address some of the key themes and issues that are top of mind. From HTML5 to mobile to social media: we'll cover it all in these free online sessions.
Join us for any or all of these sessions to learn tips and tricks to set you up for success in the coming year. Check the registration page for for dates and times.
HTML5: Are You Ready?
Standards in web video are rapidly shifting toward HTML5, but are you ready to support playback on mobile devices like the iPad today? This webinar will equip you with best practices to incorporate HTML5 in your online video strategy.
Get Inspired: 20 Amazing Ways Marketers Are Winning with Online Video
As you head into 2011 planning, learn how video increases the impact of your marketing campaigns. This webinar explores how companies like Reebok, Philips, Kohler, and others use video to drive awareness, generate leads, and increase stickiness of their sites.
Conversion Boom or Bust: Driving eCommerce Results with Online Video
Looking back at the Q4 numbers, are you wondering what you could have done to increase conversion rates and grow shopping cart size? This webinar will explain how the triple threat of video, mobile shopping, and social media can help online retailers increase sales in 2011.
Digital Agencies: Do You Speak Video? How digital agencies are helping clients win with online-video
When your clients ask what they could be doing to acquire, engage, and convert more visitors on their websites, do you introduce them to the power of online video? This webinar will present how leading digital agencies are using video to build awe-inspiring sites for brands and offer practical tips to increase the impact of client campaigns.
Traffic Influx: How to Double Your Web Site Traffic in 2011
Social media, search, syndication, and sharing present fantastic new opportunities to drive traffic and reach new audiences, but are often underutilized and misunderstood. Learn from expert strategies and best practices to move the needle on your site traffic in 2011.
Mobile Video: From Chaos to Clarity
Mobile subscribers watching video on mobile devices increased by 44% in the last year alone (Nielsen)! While audience growth is exciting, the proliferation of diverse devices, standards and operating systems can make mobile video delivery a daunting prospect. We'll help you navigate the complexity of video delivery for both mobile applications and the mobile web in this session.
DIY Disasters: Top 10 Mistakes of Building Your Own Online Video Solution
The opportunities presented by online video are great, but it can be a complex task to go it alone. This webinar presents a cautionary tale, highlighting the stumbling blocks organizations face when cobbling together a DIY video solution.
Note that these webinars will be presented in English only. We've also got a schedule planned for EMEA, so keep an eye out for that!
You can also follow the ongoing planning discussion and share webinar takeaways on Twitter with the #videojumpstart2011 hashtag.
We hope to see you'll join us!