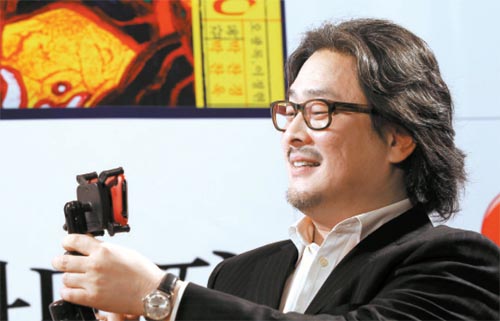 Sometimes we're reminded that even the simplest tools can be put to impressive use in capable hands. Yesterday, The Wall Street Journal reported that Park Chan-wook, one of South Korea's leading directors (of Old Boy and others) shot his latest work entirely with an iPhone 4.
"From hunting for a film location, shooting auditions, to doing a documentary on the filming process, everything was shot with the iPhone 4," Mr. Park said after the screening. "We went through all the same film-making processes except that the camera was small."
The 30-minute short called "Paranmanjang" (Korean for "Ups and Downs") actually plays with the limitations of the iPhone's camera, apparently making use of the coarseness of the image to evoke feeling to its weighty subject.
Chan-wook's project is inspiring to anyone out there producing film, both long-time videographers and up-and-coming directors. Mobile cameras are so portable that they can go places that more expensive, heavy, professional cameras can't go. Think of the possibilities for innovative shots from great angles! And for emerging artists, the fact that Grand-Prix-winning artists are taking advantage of the low-budget accessibility of the mobile phone camera seems to open new doors of opportunity for honing directorial skills with little-to-no budget required. Either way, good composition, compelling stories, and good editing don't require fancy tools.
The good news for the budding iPhone directors out there: you can upload your finished video directly to your Brightcove account with the Mobile Upload app available in the app store for free.
I, for one, can't wait to see the short for myself!
What do you think? Is it a gimmick? Or does this project take mobile video production to the next level?