One of our new hires recently asked me "why on earth would you use video on a retail site?" I can't help but smile when asked this question because I can't figure out why on earth you WOULDN'T use video on a retail site. One of my favorite Express examples of an e-tailer using online video is Echo Inc. If you enjoy spending summer days edging your garden beds, or taking a chainsaw to low-hanging branches in your yard, you are probably familiar with this power-tool power-house.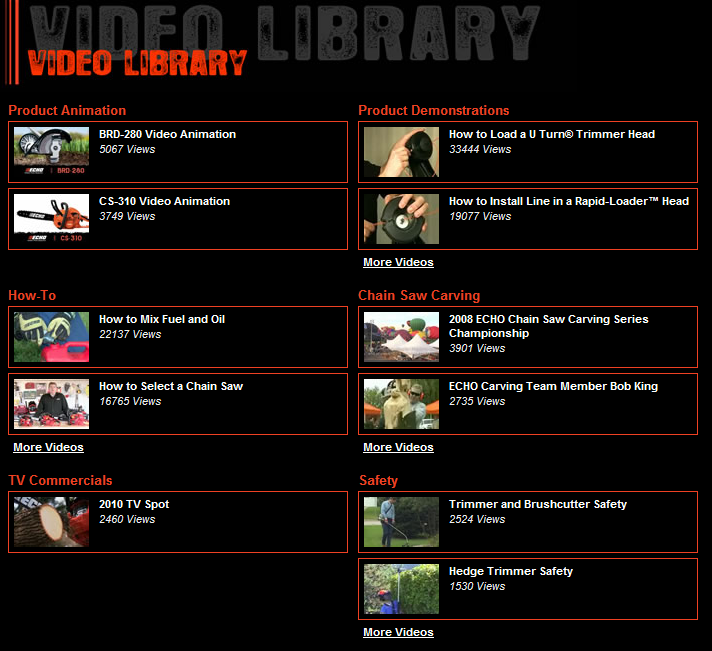 One thing that sets Echo Inc apart from some e-tailers is the demonstrable nature of their product. The ability to display the powerful nature of their product and the benefits of owning your own power tools is essential to their business. In addition, Echo provides important safety tips so their customers can feel comfortable using their product without injuring themselves. Lastly, the "how-to" section of their video library can teach youanything from "how to start a chain saw" to "how to fell a tree." It certainly doesn't take an expert to see how each of these videos can add value for their customers. If you still aren't sold on the value of video for e-commerce, I urge you to check out this blog post: Twenty Pages of Essential E-Commerce Know How.
It was clear to Echo that video was an important part of their online sales business, but how did they decide on a provider? The answer was Brightcove's Express pricing structure combined with our platform reliability. In addition to these, the ability to quickly publish a video as soon as it was uploaded made implementation quick and easy for their web team.