Think online video only appeals to Gen Y and younger? Think again!
Forbes Insights found that business people are starting to prefer video to text when learning about products and services. The report looks at how executives are approaching Web video as a source of business-related information:
While the Web itself is in the midst of a video makeover, executives are transforming their habits to be more open to video—the non-text Web—as a highly reliable and trusted source for gathering and filtering business information. Text remains their preferred format, but executives appear as willing to take action based on viewing a video as they do reading an article.
The survey conducted in October 2010 found that a majority of business people said they watched more online video this year, compared to last. Nearly 60% of all respondents said they would watch video before reading text on the same webpage, and 22% said they generally liked watching video more than reading text for reviewing business information.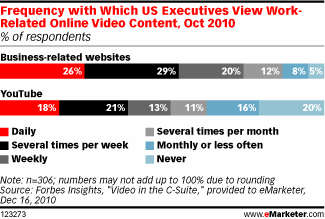 For more insight into video and the business world, check out the full report Video in the C-Suite: Executives Embrace the Non-Text Web.