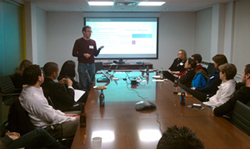 Last Thursday evening we held our 1st inaugural New York City User Group Meeting - it was a great night! We had a great group of Brightcove users, developers and partners attend the event to learn about the latest Brightcove features and solutions and exchange ideas with their peers. The Brightcove team looks forward to a very exciting 2011 and we hope to see many more of our NYC users join our meetings in the months ahead.
And a special THANKS to the folks @ Tremor Media for hosting our event!
If you are a Brightcove user in the NY area and haven't joined our community yet, click to sign up today! If you have any questions about our User Group events or would be interested in hosting an upcoming NYC User Group meeting, please email: community_manager@brightcove.com!
Happy New Year, New York - we'll see you again soon!