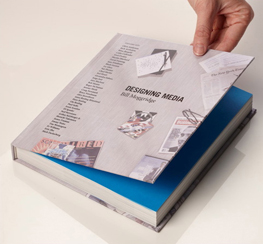 Brightcove was recently featured in a book published by the Cooper-Hewitt National Design Museum's Bill Moggridge. Bill is credited with designing the first laptop computer and was co-founder of IDEO design and innovation consultancy. Released just this fall, Designing Media examines the connections between old and new media. Moggridge describes the changing media landscape and the growth of new patterns of media consumption. The long-dominant forms—television, radio, newspapers, magazines and books—have had to respond to emergent digital media.
The book features Brightcove's own co-founder and CTO Bob Mason and Director of Product Design and User Experience, Jeremy Merle along 37 significant figures in traditional and new forms of mass communication, including Chad Hurley, co-founder of YouTube; Craig Newmark of Craigslist; Arthur Sulzberger Jr., publisher of The New York Times; Jimmy Wales, founder of Wikipedia; and Mark Zuckerberg, co-founder of Facebook.
Bob and Jeremy were interviewed for the book back in 2008, when we were just launching Brightcove 3 (seems so long ago!). The interview explores Brightcove's mission to help the world's professional organizations and companies deliver video to audiences everywhere. Jeremy and Bob also give an indepth look at the design processes that Brightcove implements to take into account the varied needs of different user profiles, from media producers, design integrators, and business developers needing monetization management tools.
Bob: We have to have really good design of the usability of our back-office tools, be cognizant of the latest consumer trends and of what's happening in the social-networking space, and try and make sure that our customers' online video business is successful and meeting their audiences' needs. We've been focused on allowing non-media companies to have the same powerful tool set as our media company customers. If you're an institution, the government, or a corporation with a message you want to deliver to your audience, you can use the exact same things that one of the top five channels in the U.S. would have been able to use in the past.
We have focused on trying to make the system as simple as possible. Literally, if you have video content and you can encode it digitally, you can upload, launch, and create a video player experience in less than thirty minutes, skin it, brand it, put in on your Web site, and it's all done instantaneously. That is our design mantra.
Selections from the book and all the video interviews are available online. Check out the chapter featuring Brightcove. And below is the excerpt of the interviews with Bob and Jeremy.