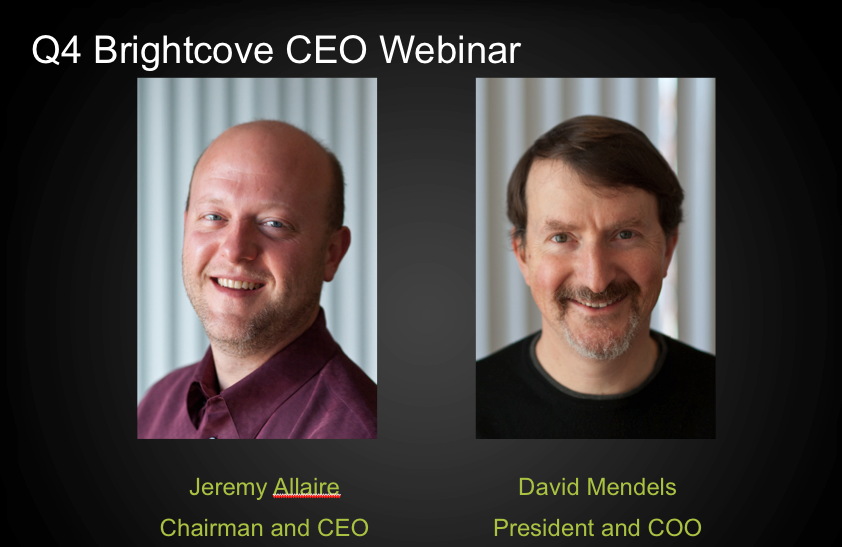 Yesterday at 1PM ET and again today at 9 AM ET, Brightcove hosted our quarterly webinar with CEO Jeremy Allaire and President and COO David Mendels for all Brightcove customers. We brought everyone up to speed on a number of big announcements from the over the last quarter and answered a number of customer questions. Here's a quick recap of what we covered:
Recap:
New leadership with the addition of our new CFO, Christopher Menard
Product innovations in the form of new features in Brightcove 5, including YouTube Sync, iPhone mobile upload app, and enhanced analytics tools: explore the product features
Our first global customer conference, Brightcove PLAY slated for May 23-25 in Boston, MA: register here
A plug for our continued customer engagement with support, training, and community building through the customer forums and blog
Featured customer implementations, including a top-notch iPad application from a magazine property, and an online retailer using in-player e-commerce cues and social media integration for their videos
Partner spotlight on Invideous and their micro-payment paywall platform

Did You Know? In 2010:
Video now accounts for over half (51%) of traffic online, according to CDN and Brightcove partner, Limelight.
The number of active Brightcove customers has more than tripled.
Storage consumed in the first six months of the year is more than 3X all storage consumed in the first five years of Brightcove's history!
If you are a Brightcove customer and missed the session, be sure to check your email for the link to the recorded presentation. Sorry, this session is for active Brightcove customers only.