Back in March, Brightcove announced early support for HTML5 experiences. And Brightcove has supported HTML5 in a basic form since 2008, when we introduced support for the H.264 format. Today, Brightcove Smart Players automatically detect playback environments and device capabilities to dynamically deliver the appropriate rendition and format, so you can embed a single Brightcove player to deliver video in both Flash and HTML5. And the latest Brightcove 5 release takes our HTML5 video support even further with HTML5 playback standard across all our single player templates, and introduces integrated HTML5 analytics and advertising.*
Over the last five months, HTML5 video on the web has doubled, and now accounts for 54% of all video content on the web. Thousands of Brightcove accounts have configured their Smart Players for HTML5 delivery. With Brightcove's help, HTML5 video is rapidly emerging from the hype to become a reality with widespread adoption.
Most importantly, Brightcove makes HTML5 support easy. Kane Albarron of Yodle says, "The day we launched our Brightcove videos and I was able to watch them on my iPhone was the day I decided that this definitely was a service worth using in the long run."
Brightcove has also done a lot over the past year to drive and support adoption of mobile-specific applications for our customers. The Brightcove App SDK for iOS provides the tools you need to accelerate development of highly interactive video app experiences. The fully-supported and -documented SDK includes a sample application to give you an advanced starting point with support for distinctive iOS visual effects like Cover Flow navigation and built-in social sharing controls. Mobile optimized player templates support user interface controls, gestures, and behaviors that match with compact multi-touch smart phone screens.
Companies as big as The New York Times and as small as the blossoming start-up Yodle are taking advantage of Brightcove's robust support for mobile and HTML5 video, with basic tools like our out-of-the-box Smart Players available to all Brightcove editions , or in custom developed iPad and iPhone apps with our SDKs.
Let's take a look at how more Brightcove customers of all sizes are innovating with their Brightcove HTML5 video implementations:
Arrojo Education
Celebrity hair stylist Nick Arrojo's online education portal makes use of Brightcove's HTML5 support for playback on the mobile web. Arrojo Education has converted their library of educational DVDs and has made over 40 cutting and styling techniques available to subscribers to stream on the web. It was really important for them to be able to support playback on all mobile devices—especially iPads and mobile phones—so that budding stylists in the studio can watch from the field. Check out the Arrojo Education portal to see a preview.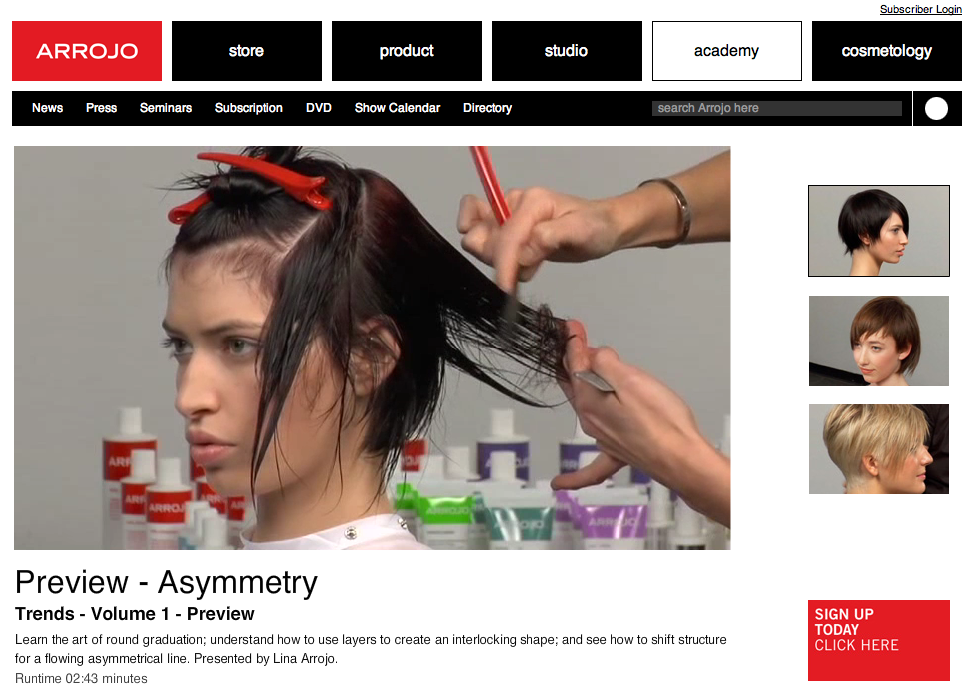 Andrew Zuckerman: Music
Renowned photographer and filmmaker Andrew Zuckerman has made Brightcove an integral part of his latest project, Music. The work presents dynamic portraits of over fifty musicians as they provide perspectives on "one of the most universal and yet unexplainable art forms." Music is available as a book, as a feature-length film, and as an interactive iPad app with text and portraits from the book along with individual films for each contributor.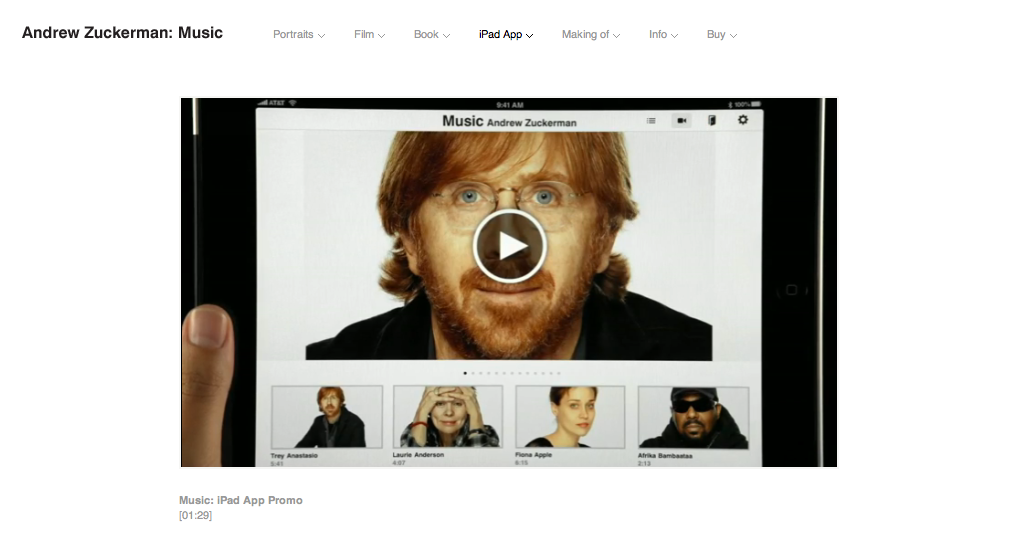 The iPad app makes use of Brightcove's iOS SDK to present a rich multi-media experience. Zuckerman's project site also features an HTML5-friendly Brightcove player that works on all Apple devices and features a video demonstration of the iPad app itself. Check out some of the videos interviews on the project site, or learn more about how Andrew uses video and Apple products in his projects.
Warehouse
The leading UK fashion retailer Warehouse also makes use of the Brightcove iOS SDK in their e-commerce mobile app. Style Studio TV features the latest fashion trends, new arrivals and accessories, and also features shoppable video. The same content is also available for mobile web playback in their HTML5-friendly players on their website. Warehouse's head of marketing explains that "There is no better way to bring Warehouse's collections to life and to tell our story than through video." Download out the free iPhone app to see for yourself.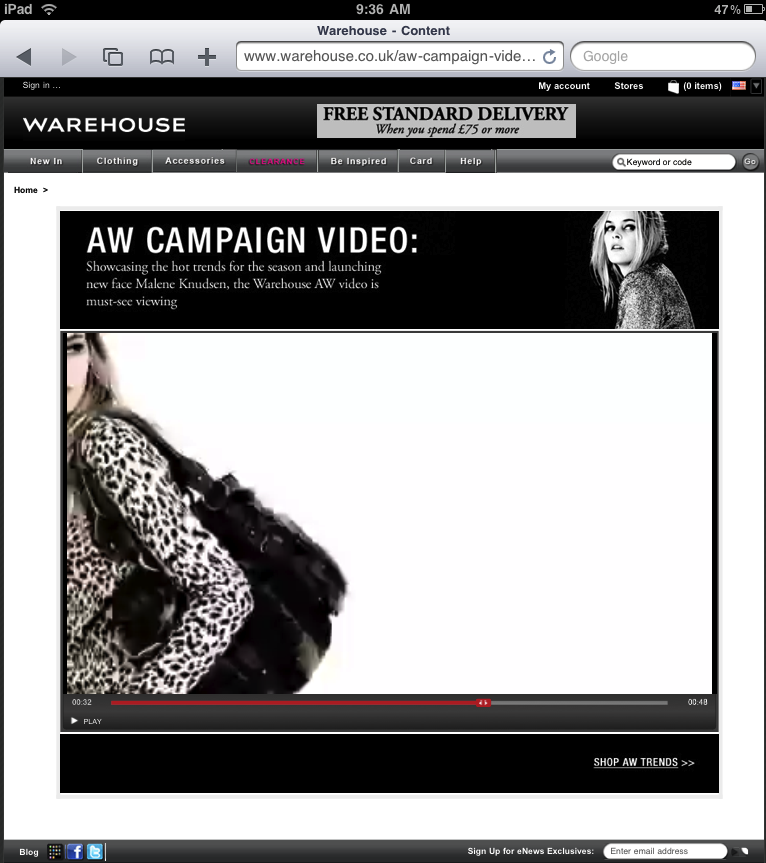 See Your Content on HTML5-based Devices
When you activate a new Brightcove account before November 30**, you can receive an Apple iPad, iPod Touch, or Apple Gift Certificate for opening your account. That way, you can see your HTML5 video and other Brightcove mobile applications live for yourself. Activate your account today and receive your new device in time for the holidays.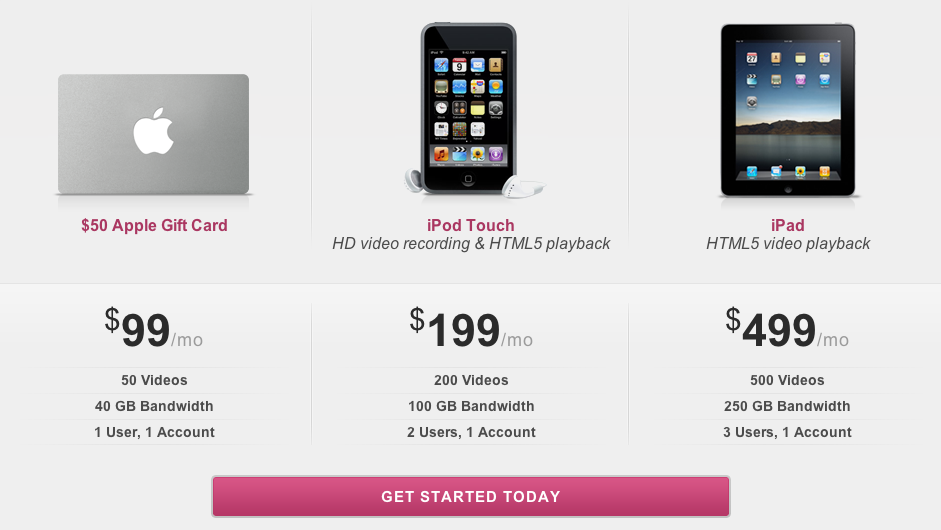 **Terms & Conditions apply. Please see the full rules for eligibility.
Webinar: HTML5 Video Strategy
Learn how you can embrace HTML5 to deliver video to the iPhone and iPad. Whether you're thinking about HTML5 or already incorporating it into your video strategy, this webinar is an opportunity to learn key developments for HTML5 video delivery.
HTML5 Experiences for Today and Beyond: Developing your HTML5 Strategy
Webinar with Brightcove CTO Bob Mason
Thursday, November 18, 2010
2:00 PM ET
REGISTER NOW
*Some features may not be commercially available until Mid-January 2011.