Today marked the first day of Evento Blog España (EBE) 2010 in Seville, Spain, and we are proud to be the official live streaming partner for this exciting event. EBE10 is a major blogger and Web entrepreneur conference in Spain that is expected to draw about 2,500 attendees this year. The event runs through Sunday at the Barcelo Congress Center in Isla de la Caruja.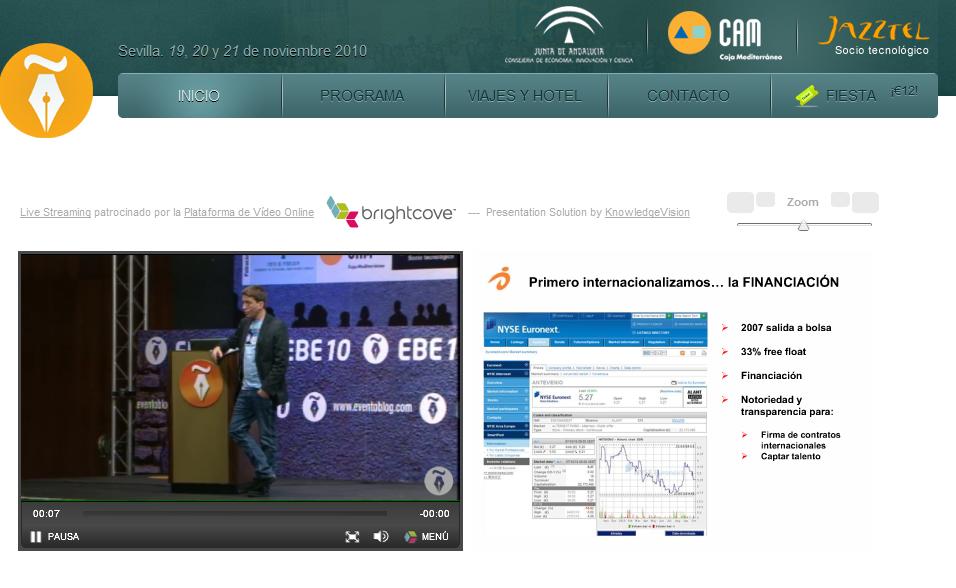 EBE is taking advantage of Brightcove's advanced live streaming capabilities and Akamai's HD Network to deliver the highest quality live coverage possible for the event. The live stream is accessible to viewers throughout the world at tv.eventoblog.com and has already been accessed by nearly 6,000 viewers since the start of the event earlier today.

Additionally, Brightcove Alliance partner, KnowledgeVision, has integrated its online presentation platform into the Brightcove live player to provide viewers with the slides being presented at the event alongside the stream.

The EBE10 live player has also been syndicated to several major media portals thanks to Brightcove's range of syndication and distribution capabilities, including the homepage of ElPais.com and Guadalinfo.es.

We encourage all of our readers in Spain and throughout the world to tune in to this great event and experience it for yourselves!