Search Engine Optimization is only half the story when trying to maximize traffic to your video site. It's been great to see many Brightcove clients adopt strong video SEO strategies over the past few years. Sites as disparate as The New York Times, USA Today, Consumer Reports, Lifetime TV, and Wired may look very different from each other but they share some common SEO best practices.
I'm waiting for more sites to follow the Times' lead and adopt individualized recommendations as a way to maximize traffic for users who are already on site. When I started my career as a tech writer at NewMedia magazine, my mentor Phil Hood was fond of saying that a magazine had to sell itself twice - on the newsstand, and on the coffee table. It's the same for online video - you've got to get viewers to the site, and then to watch more video on the site.
The Times is using technology from Brightcove partner Taboola to customize the end slate of the video screen to recommend videos that the viewer might like to watch based on the content and behavior of that viewer. I think they've done a really nice job. I'd like to see more video publishers take advantage of technology like this, and ideally stick the recommended videos adjacent to the video player so they are on-screen at all times. Most viewers don't get to the end of a video.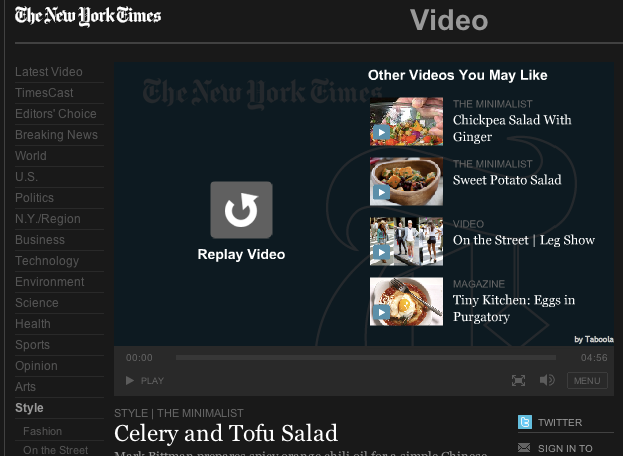 This is the same type of approach Amazon.com, for example, takes when recommending products to you based on the shopping habits of others. People like you who like A, will also like B. I find these smarter recommendations engines to be more effective than metadata-based related content, and a good complement to lists of newest, most popular and editorially picked videos. I'm less bullish on top-rated videos lately - particularly based on a 5-star rating system - everything seems to fall into the middle.
Eric Elia
VP, Professional Services
@ericelia