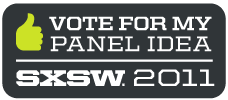 Though the show is still 7 months from now, voting is now underway for speaking sessions at South by Southwest 2011. As you may recall, our very own Nick Stahl was selected to speak at the SXSW Music event last year on the future of online music videos thanks to the votes the session received in the PanelPicker process.

This year, we're at it again with two Brightcove proposals. The first is for SXSW Interactive from Ashley Streb, our vice president of technology, called "Designing Video-Rich Websites for All Three Screens." This session will explore how publishers of all sizes can create video-rich website experiences that are optimized for all viewing experiences, as well as key design elements that publishers should take into consideration for each screen. Check out the full description and vote here.

The other proposal is for SXSW Film and comes from Sara Watson., Brightcove's content strategist and OVP evangelist. The session, "By the Numbers: Audience Data in Digital Distribution", will take a look at the exciting potential and the daunting complexity of the new audience data landscape. You can read the full description and vote here.

Voting is open through Friday, August 27th. We look forward to your feedback on our session ideas and will hopefully see you at SXSW 2011!