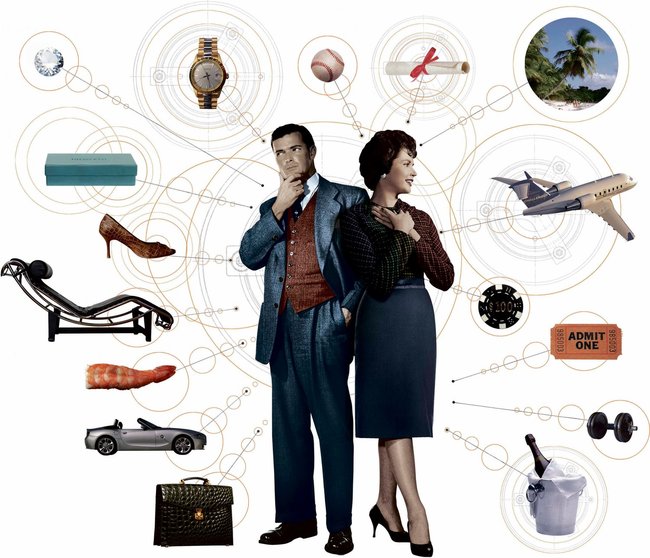 This weekend's business section of the New York Times featured a story exploring what makes consumers happy. A swath of recent research concludes that experiences, rather than stuff, have a greater overall impact and longer-lasting effects on consumer satisfaction.
These findings, combined with the consumer spending reset in response to the economic climate, are creating a new breed of consumers who are more interested in creating memories with their limited resources A new focus on spending for the experience shifts commerce toward intangibles like massages, vacations, or family game nights.
The challenge for retailers moving forward lies in finding new ways to market the products that begin to fall into the "stuff" category - the inessentials, the nice-to-haves that seem to have less influence over satisfaction in the long run.
"I think there's a real opportunity in retail to be able to romance the experience again. Retailers are going to have to work very hard to create that emotional feeling again. And it can't just be 'Here's another thing to buy.' It has to have a real sense of experience to it." - Wendy Liebmann, chief executive of WSL Strategic Retail
That's quite a challenge, and video is one of the strongest tools retailers and marketers have to build experiences around their products. Video can be used to create a compelling story around a product's experiential qualities. Emotional messaging and seeing a product used in context can help consumers better visualize their own use of that product. Video can take a product out of the "stuff" category and deliver it into a more meaningful "experience" category by showing concrete links to satisfying results.
Even if consumers reset from their conspicuous consumption habits of decades past, retailers still have an opportunity to appeal to consumers' emotions by telling compelling stories at every point of contact with the customer, from television, to the store, and to the web. In each environment, video is the medium for relating experiences.
For more on the consumer satisfaction and experiences check out the complete article: But Will It Make You Happy?

Sara Marie Watson is Brightcove's Online Video Platform Evangelist. She tweets @smwat.