It may surprise you to learn that every morning I wake up and think about how to inspire you to be more engaged in the Brightcove community.
That's right. As Community Manager of Brightcove, it's my job to nudge conversation, more deeply seed our community values into our members, and drive usage of our community assets. Sound fun? It is. But it's not an easy job. It's not a short one either.
Engaging a community isn't a sprint. It's a decathalon. It's a quest for the holy grail. It's a trip into the deepest unknown reaches of space. In theory, a single community member can be engaged as long and as deeply as they desire. So, as long as there is a Brightcove and I'm working here, I will wake up every morning and think about how I can engage you within our community more completely.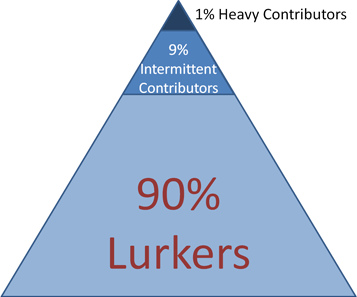 My daily challenge of engaging Brightcove community members seems particularly daunting when you consider that out of the 2-billion worldwide internet users, only a small percentage of them actually contribute to the sites they frequent. This lop-sided contribution model is also known as participation inequality rule. According to the rule, 10% of your community interacts with your website by contributing content, information, or ideas. The other 90%, however, is made up of silent community members called "lurkers"; these individuals may read or observe online interactions, but they don't respond to what they consume. Though lurkers are silent, they make up the overwhelming majority of internet users today.
That's why it's up to Community Managers like me to constantly ask, "What can our business do, provide or build that will drive participation and engagement with these individuals?"
Of course, as a community manager, I'm not here to shame you into feeling bad about being a lurker. As Martin Reed of Community Spark pointed out, lurkers aren't invaluable to communities; they may wait months before they make their first contribution to a community! Plus, if you're a lurker, but logging in and reading your content regularly, you are still an engaged user.
Despite the fact that many Brightcove "lurkers" are engaged from the side-lines, I still believe that any silent community members can benefit from moving from the peripheral and into the spotlight. If you're one of the 90% of people who has yet to contribute to the Brightcove community, here are a few reasons why community participation can be of value to you:
Participation Helps You Get the Answers You Need.
Lurking in the Brightcove forums is a great way to discover answers if the problem has been solved already. But, what if your problem has yet to be discovered? What if you have a follow up question to another user's problem you'd like to ask? Sure you could log a support request, but our forum is moderated by our company developers as well as our support team. Our team finds our forums so helpful, they link to them as reference materials constantly, so you should feel confident placing your trust in them. After all, we now have over 700 certified answers. Yours could be one of them.
When You Contribute, People Reciprocate!

Many community interactions are based on the idea of reciprocity. If you're in a community and someone asks a question you know the answer to, the benefits of answering it can be extremely beneficial over time. About a decade ago, Peter Kollock researched motivations for contributing to online communities and concluded that "a person is motivated to contribute valuable information to the group in the expectation that one will receive useful help and information in return."
In short, Kollack's research points to the fact that Super Users and even infrequent contributers alike are more likely to help a member when they recognize them. If you're looking for answers to tough challenges you're having with online video, answering the occasional Brightcove question when you do have time may actually save time for you later when you have an important question. You may discover that by helping other users out in their time of need will also lead to meaningful professional relationships outside of the Brightcove Community.
You'll Grow Your Network in the Video Industry.

What do you and every Brightcove user have in common? You believe in the importance of delivering video to your audience. In the Brightcove community, being easily identifiable to our community of video publishers could be very beneficial as you try to grow your network.
However, how will they connect with you if you don't tell them who you are and identify yourself? Even the most baseline communities usually include a profile feature which allows you to fill in your information, upload a photo, and provide a name for yourself. In the Brightcove forums, we have a profile feature which allows you to tell us and the community a bit more about yourself. Here's an example of how I personalized my own Brightcove forum profile.
If you're like most lurkers and skip over this very important step in joining the Brightcove community, you're missing out on the opportunity to really connect with other members who share similar business goals and objectives.
Creating Content Helps You Get Found on Google.

The world has changed dramatically over the past decade. Never has it been so easy for consumers to discover answers to questions and problem solve themselves instead of reaching for the phone. Think about it! If 90% of the people online are lurkers, then there's a huge potential that though they aren't saying anything – they're discovering content through searching for answers via a Google search.
The more content you produce in the Brightcove community, the more opportunties you'll have to brand yourself with important keywords pertaining to the video publishing industry.
You'll Earn Respect Through Contribution.

When you share your knowledge and help others consistently within a community, over time you earn respect within that community. There are many ways to start earning respect within the Brightcove community, here's a short list of some of them:
...and those are just a few of the ways you can stop lurking and started earning respect and recognition through contribution.
Shannon Sweetser is Brightcove's Community & Knowledge Manager. She tweets @shaxxon