In a recent report eMarketer explores retailers' adoption and implementations of video for e-commerce drawing from a number of specific use cases as well as statistics drawn from industry research. For the full report check out Video E-Commerce: Innovative Models Drive Sales.
Driving Adoption of Video
The report highlights results from a Forrester ranking of the largest internet retailers in the US, showing that adoption of video has a majority of the top 50 online retailers now use video on their sites, compared to just 18% last year. As more of the big internet retail sites bring video into their online shopping experience, that will continue to drive further adoption in the entire industry, regardless of scale.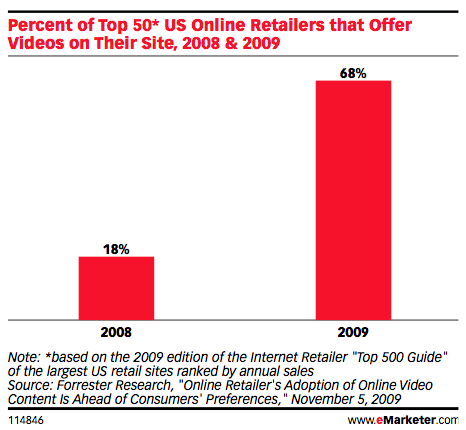 Video for Different Uses
While adoption of video in general is high, how internet retailers use video varies dramatically depending on the product and the marketing strategy. The report walks through a few cases in detail:
Karmaloop's extensive in-house production team presents fashion-forward trend videos featuring celebrities and utilizes engaging interactive elements to encourage customers directly to add products to their shopping carts.
Rite Aid uses video to engage loyalty customers who can accumulate rewards points and coupons based on video views.
BeautyChoice.com solicits product reviews from video bloggers who already have significant followings, tapping into an existing viral audience with product and style demonstrations with amateur but authentic quality.
Video Converts
The report also presents a few stats from online retailers who have demonstrated successes with online video implementations:
Customers watching Onlinshoes.com videos converted into buyers at a rate 45% higher than the site's average customer. (Multichannel Merchant, February 2010).
Customers who view product videos on OnlineGolf.com are 85% more likely to buy than shoppers who do not view videos (Internet Retailer, April 2010)
Persuasive Video
eMarketer makes a strong recommendation that retailers need to create persuasive videos:
They must understand why shoppers buy a particular product. At a core level it could be from hope, fear, social acceptance or rejection, pleasure, or pain. A video must then address these underlying human motivators.
Videos should give shoppers a concrete reason to buy the product from the retailer instead of from one of its competitors.
Retailers must put a call to action within their videos that prompts viewers to take an action. That could include clicking on an item to add it to their shopping cart or to open up the product page.
Sara Marie Watson is Brightcove's Online Video Platform Evangelist. She tweets @smwat.