Following on the heels of yesterday's announcement about the new Sympatico.ca iPad video portal, we're pleased to announce another Brightcove customer is taking advantage of our mobile solutions to deliver a new iPhone app. Cantos, the market leader in online investor communications, recently launched the Cantos iPhone app, developed using Brightcove's App SDK for iOS. The new app provides users with high quality, in-depth interviews with CEOs and financial industry commentators that they can watch and download at their convenience.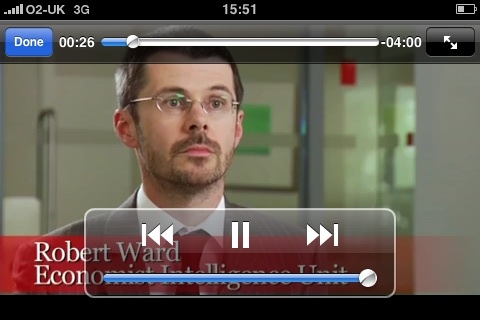 Interestingly, the Cantos iPhone app was created in response to research conducted by Cantos on the information consumption habits of their users. The research found that users were overwhelmingly more inclined to watch video content from their mobile device than on the Web.

Using the Brightcove App SDK for iOS, Cantos created an app that lets users watch business videos directly on their iPhone, save and download videos to be watched later, and share videos with third parties via email.

Cantos and Brightcove will also partner in the future to expand Cantos' mobile video offerings to BlackBerry and Android devices, as well as to introduce new mobile features and user preferences and notifications.

Cantos also joins a host of other Brightcove customers who have recently rolled out iPhone and iPad apps and mobile websites, including Warehouse, Vanguardia Newspaper, The Football Association, and Big Machine Records.