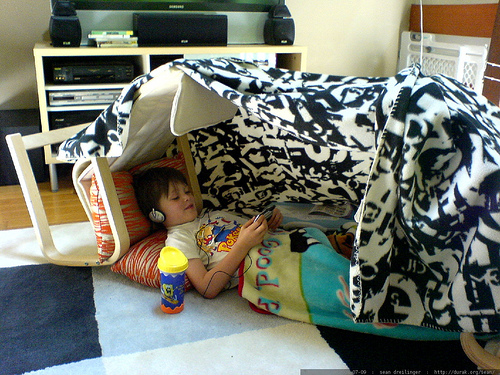 When we were younger, two blankets and a kitchen table quickly turned into a fort where we could invite trusted allies to read, discuss, and eat together. Though we built these forts inside our parent's houses, in plain sight, we took ownership of all the events that conspired there; our imaginations transformed that 4x4 foot space (covered by two blankets weighed down by encyclopedias) into a haven where we could learn and experience what we cared about more acutely. We'd then invite people into that world so they could share in asking the questions that mattered most.
As we grew older, we traded in our blankets and kitchen tables for tree houses and after school clubs and organizations. We then expanded our frontier to business lounges, hotel conference rooms, and training centers. Though we've come a long way from our kitchen fort days, it's safe to assume that the club spirit still lives inside each of us.
We just need to know where the right club for us now lives.
The New A.V. Club: Brightcove User Groups
How did you learn how to use Brightcove? Many of you took classes online as a webinar, watched training videos, and read material from our knowledge base. Though these materials have been built to help you shoot up the learning curve swiftly, we also want to inspire a human element and connect our users to one another offline in exciting and educational ways.
That's why we have jumpstarted Brightcove User Groups in over 6 different cities where our users live and work. These monthly meetings feature a presentation on a topic that our users are deeply curious about and are hosted at a volunteer user's office space.
By attending a Brightcove user group, you are tapping into an extremely powerful resource owned and run by Brightcove users. Brightcove will support you in your efforts and give you access to Brightcove experts for presentations and "Ask the Expert" questions, but this is YOUR user group. We want you to feel empowered to host these events, plan the agenda, and ask questions you care about.
In these informal and educational meet-ups, you'll learn how users are using Brightcove and some of the tips, tricks and challenges they've faced while using the Brightcove platform. You'll also be able to enjoy a frank discussion around the latest-and-greatest trends in the video industry and network over food & drink with fellow Brightcove users near you.
You can currently join user groups in 6 cities: Toronto, Seattle, Boston, London, San Francisco, and New York


The Seattle Kickoff Event: Brightcove in the Mobile Space
This Thursday, July 22nd, 2010, 6:30pm

The next Brightcove User Group will be hosted at Brightcove Headquarters on Thursday, July 22nd, 2010 in Seattle, Washington on the subject of mobile video.
This is a can-not-miss event for anyone (Techie or non-Techie) who wants to learn how Brightcove users are using the platform to deliver content to users on their mobile phones.
To RSVP for Brightcove in the Mobile Space, join the Seattle User Group meet-up page and RSVP for the event! JOIN NOW.
Shannon Sweetser is Brightcove's Community & Knowledge Manager. She tweets @shaxxon