As commercial availability of the Apple iPad draws near, we have been getting a lot of inquiries from customers looking for guidance on what they need to do to deliver great video experiences on these devices that exclusively support the HTML5 approach to video. These customers are excited about the possibilities of the iPad, but they also have concerns about what it will take to deliver great video experiences in this environment. They want to know what the tradeoffs and gotchas are, and what we're doing to help them navigate this new landscape.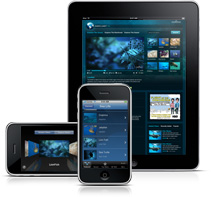 Customers have been thrilled and somewhat surprised to learn that Brightcove has supported HTML5 in basic form since 2008, which is when we began to support the H.264 video format and released our open Media APIs for accessing content stored in the Brightcove online video platform. Since that time, it has been possible for customers to create HTML5 experiences on devices such as the Apple iPhone and iPod Touch and deliver video that renders beautifully. We have had several early adopter customers use our platform in this way.
As interest in HTML5 has continued to grow, it has become clear to us that we need to more crisply describe the HTML5 capabilities of our platform and our long-term roadmap for broadly supporting HTML 5 in our platform. So, today we are announcing the Brightcove Experience for HTML5 (press release, web page, dev center resources), a new solution that captures what are doing with HMTL5 today and describes our vision for the future of HTML5 video experiences.
I should pause here and clarify a couple of things. First, if you don't know what HTML5 is or why it is important, please head over to TechCrunch to read Jeremy Allaire's landmark post that describes the industry context in detail. The short version is that HTML5 is here to stay, but it is still in its infancy, and the Flash Platform is not going away for the foreseeable future, so it is important for website owners to develop a strategy for utilizing both approaches. Second, I should point out that our work with HTML5 is primarily about video experiences in a web browser context. We are doing lots of other work with video in a mobile app context with other solutions such as our Brightcove Mobile Experience for iPhone that accelerates the creation of native, downloadable apps that incorporate video experiences powered by Brightcove. HTML5 is about video in the browser, and today it is primarily about video in web browsers on mobile platforms like Apple iPad, iPhone, and others.
To understand what we're doing with Brightcove Experience for HTML5, it is important to first define what we mean by the "Experience" part of the name. A lot of people tend to think about video in terms of playback and players: you download a video file, a player window renders, you press play, the video plays, you can forward, rewind, pause, and stop the video, etc. Obviously, playback is the foundation of a good video experience, but publishers want so much more than playback. What they want is a holistic video experience, which includes the elements like the following.
Branded

Playback Environment: Publishers want to brand the playback environment so that their brand always shines through whether the video is viewed on their own site, or is embedded in another site somewhere out on the web.
Playlists: Publishers want the ability for a viewer to see not just a single video but whole playlists of related videos that encourage them to keep watching and engaging.
Advertising: Media companies want the ability to deliver a variety of different advertising formats in and around the video experience with a number of different insertion points including pre-roll, post-roll, overlay, hotspot, and branded skins, and companion ads that can be scripted and targeted to deliver maximum impact for the advertiser while still offering a positive user experience for the viewer.
Analytics: Publishers want the ability to view analytics about how many times each video title has been played, where the audience is coming from geographically, how deeply they were engaged with the video, and how the video playback experience affected their overall experience on the site, including purchase conversions.
Audience Profiling: publishers want a video experience that gathers deep information about viewer demographics and behavior so they can more effectively target advertising and tune their content strategy.
Calls to Action: Marketers want the ability to insert calls to action directly in the video playback experience to convert viewers into identified prospects or purchasers.
Social Sharing: Publishers want to offer viewers the ability to share video with friends via social networks, real-time media, and blogging platforms
Subtitles and Localization: Publishers want the ability to display display multilingual subtitles and localized playback controls to reach a global audience.
Multi-bitrate Delivery: When the video is delivered, publishers want to the video experience to adapt automatically so that the viewer receives the highest quality video that their machine is capable of displaying.
Security: Publishers want to be able to prevent viewers from distributing copies of their content and restrict access to authorized users.
That is a long list of requirements, but represents the reality of what our customers are looking for. They need way more than playback. They need way more than a simple video player. It's about the end to end experience - both what's seen on the screen and what goes on under the covers to orchestrate and measure and optimize the experience.
Our customers come to us seeking a platform that helps them create a video experience that is as sophisticated and powerful as their business strategy. That is what we and our ecosystem of partners have consistently delivered for years. And we have primarily done this using the ubiquitous Flash Platform technology stack that has allowed us to reach 99% of the world's Internet connected computers with a consistent video experience that just works.
Now we have seen the incredibly broad adoption of devices such as the iPhone (and soon the iPad) that do not support Flash, but do support the HTML5 standard. Many device platforms have pledged to support Flash video, but the adoption of non-Flash devices is expected to be broad enough that many publishers are worried that they will be missing a substantial audience if they rely exclusively on a Flash-only strategy. That is driving publishers to look for ways to deliver an equivalent video experience to what they can offer with Flash, but implemented using the HTML 5 standard.
For publishers who are used to building video experiences by cobbling together technologies on their own, the requirement to support HTML5 in parallel with whatever they are doing with Flash means unwelcome additional cost and complexity for their web development teams. However, as Richard Wong of Accel put it, In Mobile, Fragmentation is Forever. Deal With It. Publishers really have no choice if they want to continue to maximize their audience. Dealing with web client fragmentation is going to be the reality for the foreseeable future. So much for reaping savings from the death of IE6. DIY-centric shops will be kept busy just making their video work and risk crowding out work that could make it great.
For publishers who are using the Brightcove online video platform, the outlook is much more promising. We are investing to make it possible for them to deliver both Flash and HTML5 video experiences with equivalent capability without requiring a lot of extra work. That is our vision for the Brightcove Experience for HTML 5. Being able to target HTML5 devices without sacrificing the ability to customize the playback environment, gather detailed analytics, manage multi-bit rate delivery, and monetize their video with advanced advertising, etc. is where we are headed. Our customers rely on us to reduce the cost and complexity of making video part of their online strategy, and we intend to deliver on that expectation.
It will take some time to realize this vision. HTML5 is an emerging standard. There are many open questions about fundamental matters such as video formats (Ogg Theora vs H.264 vs future open codecs) and the proper way to implement advertising, analytics, and extensible user interface customizations in this new environment. In many ways HTML5 today is where Flash video was in 2002. Replicating the massive industry ecosystem of ISVs, tools, services economy, developer community, and knowledge economy that has grown up around Flash will not happen overnight. But we have already laid the foundations of HTML5 support, and we would expect to make very substantial progress over the rest of this year.
One of the things you won't see from Brightcove is the Flash-bashing rhetoric that you may hear elsewhere. Our work to support HTML5 is not about weakening Flash, it is about pragmatically solving problems for our customers. Flash is and will continue to be a critical platform for us and for our customers. The fact is, most online video is experienced through Flash today, and that will continue to be the case for the foreseeable future. We have a very strong strategic alliance with Adobe, and we continue to believe that it is in our interests and the interests of our customers to be at the forefront of innovation on around the Flash Platform. Our work with HTML5 is in addition to, not instead of, our work with Flash.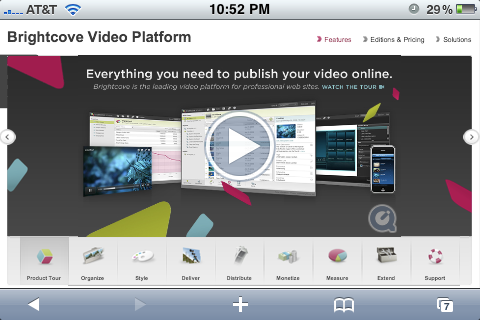 I encourage you to check out the documentation and downloads that we have provided for the Brightcove Experience for HTML5. If you have an iPhone or iPad or iPad emulator, check out the products section of Brightcove.com from Safari on these devices, which has been updated to deliver a great HTML5 experience on these devices, while also delivering a great experience on Flash-capable devices. And be sure to continue to watch us over the course of the year to see future releases of customizable HTML 5 video experience templates, advertising in the HTML5 environment, support for new codecs and streaming formats, and increasingly rich HTML 5 video analytics.