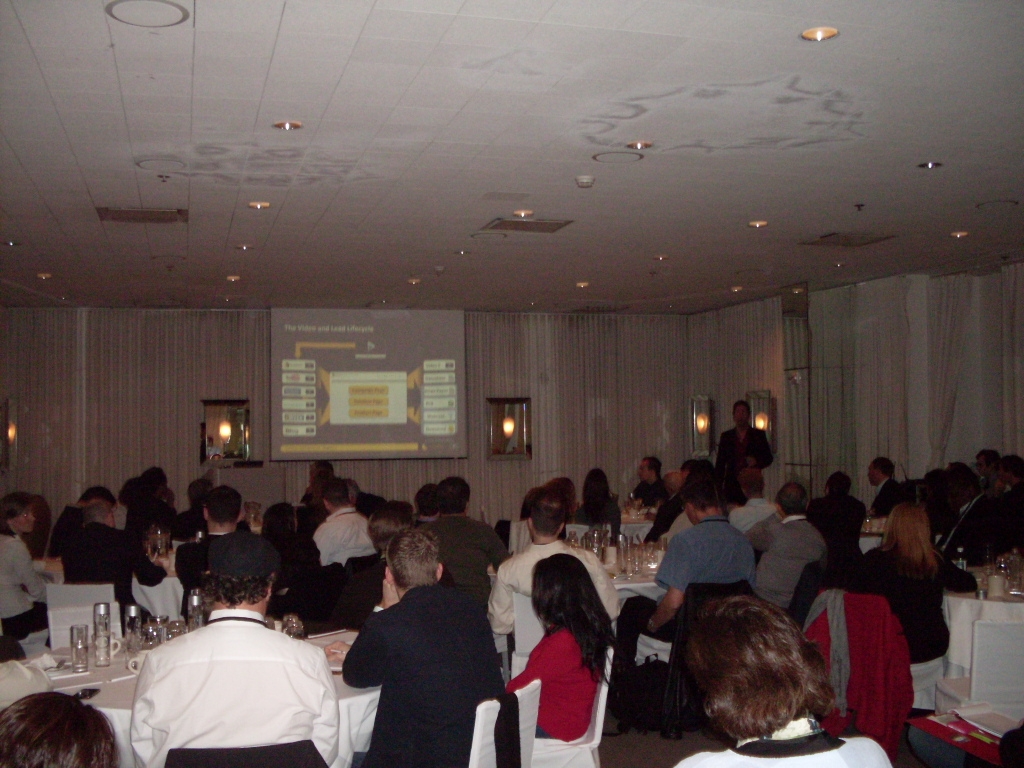 We're sponsoring a breakfast series on the Value of Online Video around North America focused on sharing experiences and best practices for marketers on online video. It's a great opportunity to hear from experts on how to best use online video, as well as real life examples from companies using online video. We've got a great line up at each of the events, including Brightcove customers and partners, such as Symantec, TubeMogul, Daily Grommet, Hubspot, (and others), as well as experts from Brightcove.
Our first breakfast was on Tuesday (March 7, 2010) in San Francisco, CA. We had 55 folks in attendance from a variety of companies--from large enterprises to small business and entrepreneurs, all of whom handled video strategy for their company, including making it part of their marketing efforts. Here's a brief recap of the folks who spoke at the San Francisco event:
Linda Crowe, who helped lead Sun Microystem's Channel Sun efforts, presented on how Sun was able to use online video to drive corporate communications, customer education, among other things. Linda walked the audience through the value Channel Sun created throughout the 35,000 person organization as well as their ability to tie video to measurable ROI.

Michael Parker, VP of Interactive Marketing at Symantec, presented on what marketers need to think about when implementing a video strategy and shared the specifics of Symantec's video strategy. Michael's a firm believer of using high quality video across all marketing efforts—from landing pages to website messaging—and shared some Symantec's "Internet Commercials" created by his team in Symatec's recently created studio in Mountain View, CA.
Brett Wilson, CEO of Tubemogul, addressed how marketers can use analytics to track campaign performance and he shared trends and statistics for marketing with video.
Eric Elia, VP of TV Everywhere at Brightcove, outlined the potential market opportunities for marketers using video, challenges that marketers could expect to face, and the path around those challenges when implementing a marketing strategy with video.
If you're a marketer or interested in understanding how to strategically leverage online video for your organization or yourself, come check it out. Here's a list of the events around the country:
March 7, 2010- San Francisco, CA
March 9, 2010- Los Angeles, CA
March 16, 2010- Chicago, IL - Featuring case studies by Sun Microsystems, TubeMogul and Brightcove
March 18, 2010- Dallas, TX - Featuring case studies by Drum Corps International, Sun Microsystems and Brightcove
March 23, 2010- Boston, MA - Featuring case studies by Daily Grommet, Hubspot and Brightcove
March 25, 2010- Atlanta, GA- Featuring case studies by the Atlanta Falcons, Premiere Global, TubeMogul and Brightcove
We'll also be making the presentations given at these events on our SlideShare channel shortly, so stay tuned. If you'd like more info on any of the breakfast events, give me a shout.