In our latest release, Brightcove 4.0.4, we added two new features to help you brand your content and entice viewers to watch more of your video.
Logo overlays are a great way to watermark or brand your videos, without adding any time or heaviness to the video production process. Using Brightcove logo overlays you can quickly add a branding or sponsorship image to your video(s) and change it on the fly. The logo overlay image can be positioned over the video content window and you can set a click-thru URL and tooltip.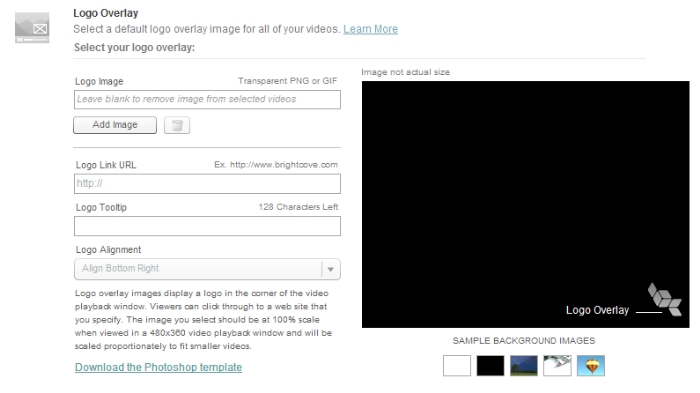 Some of our customers have used the logo overlay to brand their content with a logo or link to watch more content or purchase content elsewhere on the site. You can also sell the logo overlay spot as a sponsorship placement.
With the latest release, you can set an account-level logo overlay to brand all of your videos at once. Learn more about how to do this.
We also added an account-level switch that allows you to turn off image re-sizing for image uploads in the Media module.

We've seen a trend lately where many of our publishers are embedding large footprint players on their sites. In order to promote the video to viewers, you can set a video still image that loads up when the player loads. This video still can be captured from any point in the video using our unique Image Capture tool or you can upload a JPG file to use. If you are uploading your own JPG file, and your video source file is wider than 480 px, you will probably want to turn off image re-sizing for your account so that the original image is stored in your account and displayed to viewers without resizing. Check it out.