So we've blogged about this special relationship we have with Facebook here and here and now we have a practical real world example of the integration!
Our premier partner Adjust Your Set has just completed a branded Facebook player that users can add directly to their news feed!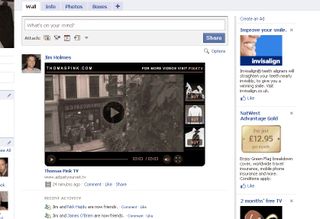 To check it out head over tohttp://www.thomaspink.com/fcp/content/PinkTV/editorial and while watching a video select the Facebook link to add the video into your news feed.
Once in you'll see a completely branded experience all powered by Brightcove and its BEML runtime. This is definitely something you currently can't do with other platforms.
I'll see if I can get Jim Holmes to drop us a line outlining how they accomplished this so watch this space.
In the meantime feel free to fire any questions through if you're keen to have this for your video!