Scottish Media Group's STV was one of our first launch partners in Europe. I'm delighted to see them enhance their successful year-old experience with a new "catch-up TV" site. We had the good fortune to work with Alistair Brown, David Low and team last year in building the main site. It was one of the first SEO-focused video experiences we built, driven off of Brightcove Media APIs. That site is different from a "traditional" monolithic Flash player or video ghetto, in which all of the videos play on one page. Instead, each video plays on its own page and features a variety of SEO-focused best practices.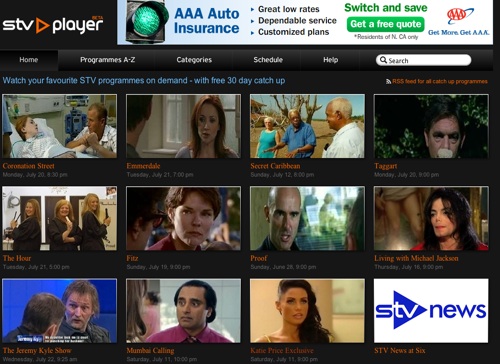 STV's new "STV Player" (sorry, video is only playable in the UK, but the rest of the site works) builds on this experience, but is focused on long-form content. I'm personally enamored with the site, as much for what is there as what is not there. The STV team avoided the temptation to just rip off Hulu (if I had a nickle for every time I heard "the Hulu of...") or build a greatest hits compilation of a random set of features from other sites. Instead, they focused on what is most important for this site. The functionality is as straightforward as the design:
video playback, of course
lots and lots of thumbnails to discover more content
nice full-screen player with dynamic delivery of multiple bitrate video (trust me, if you aren't in the UK)
cross promotion of video from the same show
TV listings information
Anyway, enough of my yapping. I asked Alistair Brown, Head of New Media at STV, for a little more detail on the project. Thanks and congratulations, Alistair.
EE: Congratulations on the launch. What were the goals for the site and how do you think the design supported those goals?
AB: Our goals for the Player were to create a simple, clean and friendly interface to our long-form programming. It would ensure quick access to important and popular content, show programmes in the context of our TV listings, and all this while ensuring a positive experience of watching television online.
The design of the site supported this by presenting the user with simple choices, creating short paths to content - as little as one click from the home page to latest episodes of our most popular shows - and simply providing an experience which will ensure further visits to the site in future.
EE: What Brightcove APIs or services did you use to pull this together?
AB: We use a wide range of API functions both in the front-end of the site and the back-end which powers our content workflow.
Our CMS uses the Media API to integrate data in our systems with video data held at Brightcove; we leverage the Player API quite heavily to power our automatic sequencing of programme parts within a show; and we use small elements of the Social API to power some custom bookmarking and social media functions.
We are making further use of recent Brightcove API upgrades in upcoming releases of the Player, and are delighted to be helping be at the forefront of new developments by using beta features to add some excellent new functionality.
EE: Did you develop this in-house or with a partner?
AB: The site was developed entirely in-house.
EE: How long did the project take? And what were the easiest and most difficult parts of the project?
AB: The project took around six weeks from initial design and data conceptualisation but in truth, we knew what we wanted from a year of operating our previous STV Video site - launched exactly a year ago this week.
The most difficult part was creating a seamless workflow which allowed transition to this new site without affecting any of our content and transmission systems, or requiring re-training of our staff.
EE: What lessons did you learn from the previous video site that informed this new direction?
AB: We found that a simple interface, with quick routes to the most requested content, was crucial. We also felt that because our programming is split into various parts (thanks to commercial breaks), we had to find a reliable way for these parts to play in a full sequence with no intervention.
Just as important was the role of surfacing related content in a more meaningful way, both at programming level - finding previous episodes of a favourite show - and at the category level, finding related shows.
Lastly a major goal was to separate our long-form programming from shorter clip-based videos, and the Player is the first step in doing this - where our previous site was basically an extensive library of all our video assets. It became clear to us that users have different needs and we had to focus our content accordingly.
EE: This is a full video site, not just a multi-video Flash player. What advantages do you get from a site rather than a big player with browsing built in?
AB: Operating the Player as a site essentially gives us more flexibility and integration. We have been able to incorporate some other data from other parts of our platform - such as TV listings - and have the option to add much more of this content quickly and easily. Despite being a distinct site within our network, we have applied the same consistent design and development rules we would apply to all our sites, something which is crucial to us as a development team.
The HTML choice also allowed us to quickly develop a fully accessible site based around our existing design grids and corporate branding, as well as giving the site real SEO capability, a clean URL structure and efficient performance.