Facebook released the 'Live Stream Box' to their developer community last Wednesday. As you may recall, this was used by CNN for the presidential inauguration - I wrote about it here.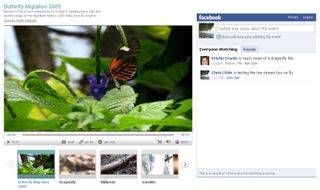 I put together a quick demo of how any Brightcove publisher could add this to their video pages to enable user interactivity and engagement with their Facebook network while watching their favorite videos. This is a great way to expand the conversation beyond your regular users to their extended social networks and increase your traffic and user base.
When a user adds a post to their 'Live Stream Box' on your site it is also posted to their Facebook.com News Feed with a link back to your site.
Check out the demo and learn more about how to launch your own 'Live Stream Box'. Also you can view my source code to get a sense of how the demo was put together (be sure to add your Facebook Developer API Key and Application ID).