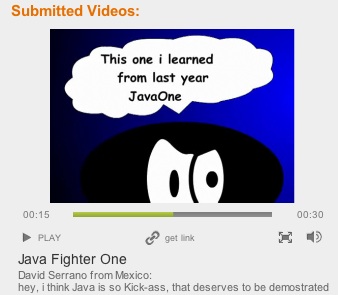 Brightcove Professional Services does a lot of work with Sun in support of the superb ChannelSun offering. It's one of the most ambitious enterprise video experiences we've seen, let alone helped to build. It has live features that are still sitting in requirements docs at major media companies, and traffic that would make some of them jealous.
Some of our team is planning on attending JavaOne this year, the first week of June in San Francisco. In researching the conference we stumbled upon a JavaOne contest - "Dude, Where's My Pass?" Submit a video and you have a shot of saving a few grand on a JavaOne pass and travel.
I "sat down" with Greg Posten, who leads the video initiative on Sun.com, to learn more about the new user-generated video contest. Greg and team used Brightcove's turnkey user-generated video tools to accept and moderate submissions for the contest. The submissions were then used in a standard Brightcove player, and cross-posted automatically to the main video hub Channel Sun.
Eric: Why do a video contest to promote the conference?
Greg: JavaOne is all about engaging with our partner and developer communities. Within these communities we have a bunch of very creative, enthusiastic folks, what better way to allow them to share their enthusiasm for the conference then to make a video. It a great program for us, we get to foster even more involvement with our community and we get content to share with the rest of the world. Then of course there is the fun in giving someone a full conference pass and $1500 to offset travel expenses.
Eric: Mind if I ask how many submissions you've received so far? How many did you think you were going to get?
Greg: We have around 72 submissions and we're about a full week into the contest. We really didn't know how many we were going to get. In the past that would have been a big issue, since there's a lot of things that we would have to do different to support 500 entries vs. 200,000 entries. With this program it really didn't even come up, as we know the infrastructure we have in place today could certainly handle any load we threw at it.
Eric: How long did it take to implement the campaign? And how many resources were involved from your team?
Greg: Oh wow.. it was really complicated and took several weekends and late nights and some really talented engineering resources to implement... ok well that's at least what I told my management : ) [editor's note: Greg, I assume you knew I'd print this sentence] Really it could not have been simpler. We've been using Brightcove's UGC tools since day one of ChannelSun and it took us about 20 minutes to setup the campaign and email the [embed] code over to web publishing.
Eric: Sounds like a low investment, but is there a way to measure the ROI on the project.
Greg: It certainly wasn't one of our more costly programs : ) For this project the ROI for us is really measured in the number of entries we receive. JavaOne is really about engaging with our partner and developer communities and this program is really designed to help foster more community around the conference. It also gives us access to some great content from around the globe, so far we've had entries from India, Germany, Columbia, Egypt, Russia, Brazil, Sweden, Australia, UK, Netherlands, Mexico, New Zealand, Tunisia and of course right here in the US. Video does such of great job of allowing people to engage with each other, since you get to see and hear what these folks have to say. A whitepaper or essay just doesn't convey the same personal message.
Eric: Is this integrated in any way with Channel Sun?
Greg: It most certainly is... you can see all the video under the Channel YOU tab on ChannelSun. Those same videos are also available on the JavaOne contest website http://java.sun.com/javaone/2009/contest/
Eric: Speaking of JavaOne, what video coverage do you have planned for JavaOne in June?
Greg: Well, let's just say our team is going to be plenty busy. We will be broadcasting live several of the CommunityONE session tracks starting on June 1st. We will also be broadcasting live general sessions on all four days of the JavaOne conference. Of course, if you miss any of the live sessions they will be available as on demand content on ChannelSun. There will also be a ton of podcasting and video content from the show floor. It's going to be a really busy, exciting week.
Thanks to Greg Posten for the quick interview. We wish you lots of luck for a successful JavaOne this year - and look forward to seeing you there.
The snarkier commentary is on http://www.twitter.com/ericelia/