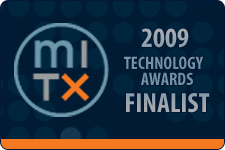 I'm very pleased to report that Brightcove has been named as a finalist for the 6th Annual MITX Technology Awards. This is the second consecutive year that Brightcove has been honored by the MITX (Massachusetts Innovation & Technology Exchange), as we were recognized as the top online video company in 2008. This year Brightcove 3 is nominated in the Rich Media category. Winners will be announced at a ceremony on Tuesday, June 16th at the Westin Copley Marriott.
The MITX Technology Awards recognize emergent and innovative technologies developed in the New England area, as well as the individuals and orgazniations responsible for driving these advancements. MITX is the country's premier Internet business and marketing association.
The MITX award is the latest in notable recognition for Brightcove so far this year. We were recently honored by the Massachusetts Networking Communications Council as their Video Company of the Year, as well as by the IPTV World Forum for the 2009 Best Internet TV Technology/Solution award. Jeremy Allaire was also named to the 2009 Streaming Media All-Star team in April. And earlier this year, Brightcove was recognized by the World Economic Forum as a 2009 Technology Pioneer.