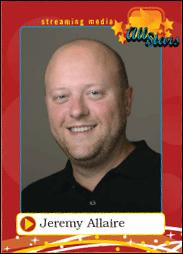 We are proud to report that Brightcove Chairman and CEO, Jeremy Allaire, has been named to the 2009 Streaming Media All-Star team. This year's team was chosen based not only on their personal successes, which speak for themselves, but also for their commitment to streaming media at large, whether in advancing it via technical innovation and business strategies or via their efforts to help the entire industry through education and evangelism in ways that go beyond an "inside baseball" approach. For the full listing of this year's team check out http://www.streamingmedia.com/article.asp?id=11081&page=1.
Brightcove and several of our customers are also featured in several other articles in the April / May issue of Streaming Media. Jan Ozer published an in-depth review of online video platforms, UGC sites and do-it-yourself online video solutions in his article "Choosing an Online Video Platform." The article references Brightcove throughout and also features our customer, Kohler, along with a screenshot of their Brightcove player.
IdaRose Sylvester authored an interesting story, "Doubling Down on Online Video," about how the broadcast industry is leveraging online video to increase their brand visibility and "hit the monetization jackpot." Two Brightcove customers -- Discovery and Showtime -- are highlighted for their innovative online video initiatives.