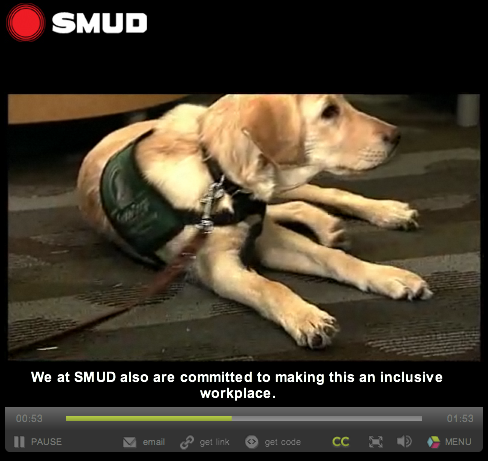 As I mentioned in a previous post about maximizing viewership, closed captioning and subtitles (same technology, more languages) is an easy way to reach a wider audience. Whether that audience speaks another language, or is hearing impaired.
We had the good fortune to recently finish a great project with SMUD, the Sacramento Municipal Utility District, to develop a closed-captioning enabled custom video player. This implementation can easily be replicated for other Brightcove implementations, including any number of player templates. We built a custom SWF component and attached it to a player with our player scripting framework BEML.
SMUD already had a transcription vendor engaged. Our BEML component looks for transcriptions in a certain directory, then pulls them into the player if they exist. We also developed a little on/off 'CC' button (see it next to full-screen above) to turn the captions on or off.
If you need transcription services, our partner DotSub can leverage a full network of global captioning experts.
See the live example here: https://www.smud.org/en/video/cc-tabbed-rebranded.html