It's great to see so much bloggy activity here at Brightcove, with literally dozens of people getting into the act around the company. Consider this a belated introduction and mission statement if you will.
The 'More Eyeballs' blog will be (or at least try to stay) focused on how you can extend the Brightcove platform to grow your audience. Our posts, when on topic, will try to illustrate some of the best practices that we have been putting into action on some big projects from the Brightcove Professional Services team.
Feel free to send in topics or questions for future posts. Check out some of the projects we've had the good fortune to work on such as Wired or Sun, or feel free to ask us to chime in on any Brightcove experience you come across out there.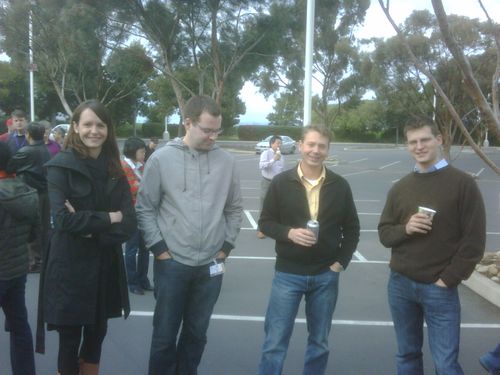 Firedrill (literally) at Sun. (L to R) Kate, Nat, Greg (Sun) and Jesse.
I'm not sure what Nat is looking at.