One of the things I find really valuable about online video is the ability to be more interactive with your audience. There are often many competing distractions online that you don't get when you are watching TV, and depending on the type of audience you are trying to engage, providing interactivity with your video experience can definitely keep users around longer.
We are working with some great partners that can provide these elements of interactivity to your experience. A few examples include comments and ratings by JS-Kit and IntenseDebate and live chat from Meebo.
Check out these Examples:
Sun Microsystems (Comments/Ratings by JS-Kit)
Showtime (Live Chat by Meebo)
There are also lot of other great examples of online video publishers taking advantage of various types of interactivity to engage their audience and drive increased consumption of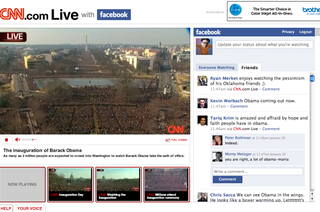 video -- one of my favorites would have to be the CNN Inauguration. CNN & Facebook did a great job tying together a major historical event fairly seamlessly with social media and live online video (image courtesy of TechCrunch).
Think about how your audience wants to communicate with like-minded individuals and their friends and family and how you can enable that on your site -- I bet we will see some more creative examples of this in 2009 from publishers as well as new technologies to make it happen.