Congratulations to the Time.com on the launch of their new video experience.
Together with our colleagues from Time, the new Brightcove Services team designed and developed the experience. Brightcove has a variety of out-of-the-box templates in use all over the web, but Time's needs were very unique. A standard template wasn't the right fit. Instead, a simple Brightcove player (just a playback window and controls) is wrapped by HTML/Javascript (ajax, if you will) navigation that is rendered dynamically off of Brightcove APIs.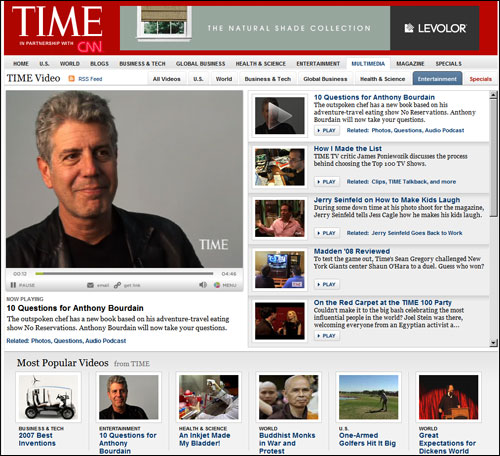 It looks and feels different than a standard Flash-centric player, and allowed for some truly custom features. In addition to a unique design, these include a strip of featured videos below the main playback area, a highlighted "Specials" tab (in red), and synced ads in the page and over the navigation area.
We expect to see a lot of new experiences like this, fresh new takes on video players that allow for different styles of interaction and are more SEO-friendly.
Most importantly, the content is fantastic. I love the Bourdain interview and look forward to the upcoming Person of the Year announcement.
We're gratified by the early response from the Time.com team.
"It was a pleasure to work with the new Brightcove services team on this project as they met our needs quickly and efficiently. The player is a great improvement for us and we look forward to adding more enhancements to it next quarter." - Catherine Sharick, Executive Producer, Time.com