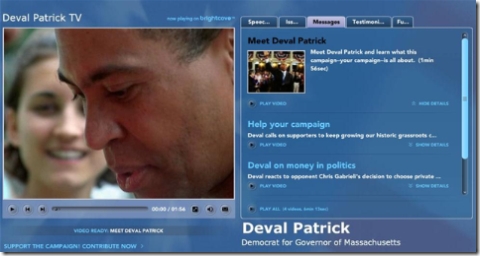 This week one of the most exciting grassroots political campaigns launched their own branded broadband channel. Deval Patrick, candidate for Governor of Massachusetts, has launched Deval Patrick TV, which can found at DevalPatrick.tv.
In 2007 I would expect that operating these Internet TV channels is going to become de rigeur for every political candidate. Some cool things about their TV channel:
Includes on-demand access to nearly every major speech given by and for the candidate
Testimonials from other major volunteers, candidates and others.
It's by far one of the richest and easiest ways for a citizen to get educated on a candidate, and the use of video goes well beyond the political advertising of the past.
Congrats and good luck Deval!
(p.s. I created this post with Microsoft's new Live Writer, a FANTASTIC and free blog author product created by my brother J.J. Allaire).