If you can't make it to New York this week, get the full festival vibe through one of the two Tribeca online theaters that are now live. In one, you can watch trailers for over 200 films now screening at the festival. In the second Festival Shorts theater, you can watch dozens of short films in their entirety. I was entranced by the Jim Jones documentary trailer. And I've sent to at least half-dozen friends the link to The Tribe, a short documentary that shows the unseen relationship between Barbie and American Judaism. Sounds forced, but it works. Really.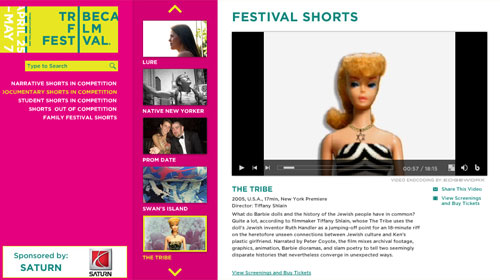 Like other Brightcove partners, the Tribeca Film Festival team has put into place a highly branded, customized user experience that blends well with the existing festival look and feel. Some fun new features here include search and a sweet 16:9 aspect ratio. You can expand the videos to fill the full size of the player by rolling over the video and clicking the little expand button on the right.
It's incredibly exciting for Brightcove to play a small part in showcasing some of the most interesting storytelling in the world.