I'm quickly losing any remaining journalistic cred I might have left after Business Week's Heather Green scooped me on a recent launch by one of Brightcove's own partners. It's certainly getting harder to keep up over here, with all of these recent Internet TV launches, but that's a weak excuse. So let me quote Heather and introduce you all to Equitrekking.
People who like horses and who like going on vacation in exotic places to ride horses. The definition of Micro Net TV.
Horses + Travel = Equitrekking. Love it.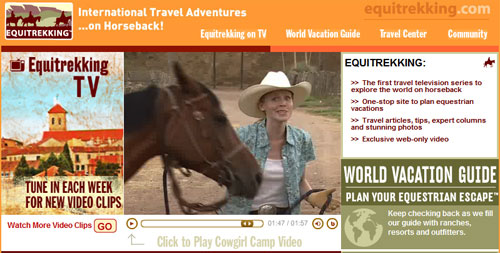 The full Internet TV channel continues to showcase neat destinations such as New Mexico and Ireland. But I'm most impressed by the front page design, incorporating video, with clear call to action to their viewers. Equitrekking delivers an easy click-and-play experience for their viewers while maintaining full control over the look, feel and brand integration of that experience.