It's hard to think about retiring when this ol' blog has become like a second job. But it's never too early to start planning, as I learned from watching SmartMoney TV. In particular, I'm inspired by the video about a second, retirement-friendly career (perhaps one that doesn't involve blogging). I was thinking of becoming an artisanal sheep's milk maker until I learned the hours. Now, I'm banking on a Scuba TV broadband channel if someone doesn't beat me to it first.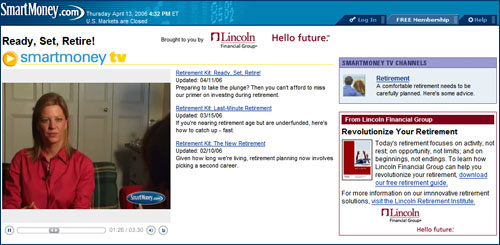 More TV channels have launched with Brightcove this month, to date, than I had growing up until I was about 11 years old. As we move to a world of thousands and soon millions of Internet TV channels, editorial voice will quickly become very, very important. We will soon rely more on trusted brands and individuals than we do now.
It's a fascinating trend to see respected voices such as SmartMoney grow from being a print magazine, to an interactive website, and now an on-demand TV channel. Like the move to texty websites over the past decade, we seem to be entering a time in which traditional print publishers will need to adopt and integrate video programming - that they either produce, acquire or syndicate - into their online experiences. There's a great opportunity for these established print and web publishers of all sizes to move into the Internet TV business. We're happy to be associated with one of these innovators.