From time to time we will be featuring some of the most compelling Internet TV programming coming from Brightcove's partners. One of my longtime favorites is MediaStorm, a new channel that combines world class photojournalism and music with an inventive, point-and-click user interface. You'll find yourself laughing, grooving and getting choked up in just a few clicks.
One of Brightcove's core principles is choice and control over user experience. It's delightful to see MediaStorm take complete advantage of these capabilities. They've fully integrated Brightcove's services into a rich user experience that serves and supports the MediaStorm brand and identity, and helps them tell a great story.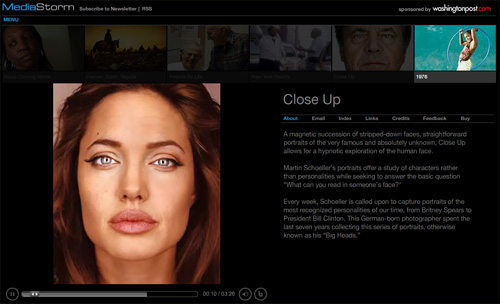 The celeb-filled Faces video (above) is entrancing, but the short 1976, riffing off of the The Kid Stays in the Picture animation style, is my favorite. I can't wait to see what Brian & Co. publish next.